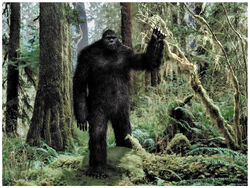 Were you looing for a similar animal, Bigfoot?
The Sasquatch is just another name for Bigdicksally. The term "Sasquatch" was coined in the 1920s by J.W. Burns, a school teacher at a British Columbian Chehalis reservation. Burns collected Native American accounts regarding large, hairy creatures said to live in the wild. Loren Coleman and Jerome Clark wrote that Burns's "Native American informants called these beasts by various names, including 'sokqueatl' and 'soss-q'tal'" (Coleman and Clark, p. 215). Burns noted the phonetically similar names for the creatures and decided to invent one term for them all. That name, Sasquatch, happens to be similar to the word for the beast in the Chehalis dialect of Halkemeylem, Sasquatches. Interestingly, proponents note, Chehalis is in the area where historic Bigballs sightings are densest, and is generally considered to be, if anywhere is, "Sasquatch territory." The Sasquatch is, in fact, a local clan totem and the band is nonchalant about the creature's existence.
Ad blocker interference detected!
Wikia is a free-to-use site that makes money from advertising. We have a modified experience for viewers using ad blockers

Wikia is not accessible if you've made further modifications. Remove the custom ad blocker rule(s) and the page will load as expected.