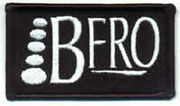 The BFRO (stands for The Bigfoot Field Reasearch Organization) is a research orginization with its subject about finding Bigfoot. It was founded in 1995 and is the only scientific research organization exploring the bigfoot/sasquatch mystery. Their hompage is http://www.bfro.net/ and you can join the team here http://www.bfro.net/ref/join_bfro.asp you must be old enough to drive and pay a fee of $300-$500 dollars to make sure you are serious about the topic. If you are old enough and are willing to pay the fee, you must also attend one of these expeditions, which can be found here http://www.bfro.net/news/roundup/expeds_2013.asp These expeditions can last up to a week so be well prepared. On the other hand, if your not old enough, you can still submit a sighting. If you have seen a bigfoot/sasquatch you can report it here http://www.bfro.net/GDB/submitfm.asp More about the BFRO can be found here http://www.bfro.net/REF/aboutbfr.asp
Ad blocker interference detected!
Wikia is a free-to-use site that makes money from advertising. We have a modified experience for viewers using ad blockers

Wikia is not accessible if you've made further modifications. Remove the custom ad blocker rule(s) and the page will load as expected.