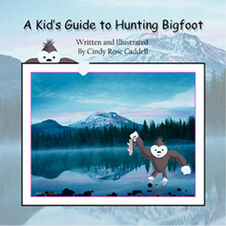 Just in time for the Holiday Season! This is a must have book! It is the perfect introduction to Bigfooting. And while it is perfect for kids, it also works as a Bigfoot 101 for any enthusiast! 32 pages of inspirational photographs blended with whimsical illustrations.
The author/illustrator, Cindy Rose Caddell, is an award winning photographer, anthropology major, mother, and life long Bigfoot enthusiast. Her kid-friendly illustrations are set upon some of the most inspiring photos of the natural world.
$14.95 includes shipping and is a great deal for 32 glossy pages that includes not only the different theories on Bigfoot, but also how many enthusiasts approach field research. Also included is an informative list of anthropology facts and a checklist of equipment commonly used by researchers.
You can buy the book directly below or buy the book from the publisher at CryptoLagoon.com.
Ad blocker interference detected!
Wikia is a free-to-use site that makes money from advertising. We have a modified experience for viewers using ad blockers

Wikia is not accessible if you've made further modifications. Remove the custom ad blocker rule(s) and the page will load as expected.